By Stan J. Griffin: April 18, 2015
University of Alabama football coach Nick Saban said following Saturday's A Day Game that he treats the annual spring scrimmage somewhat like a midterm examination relative to the progress of his team.
Judging Saturday's 27-14 victory by the White team over the Crimson squad in front of 65,175 at Bryant-Denny Stadium by that standard, Saban and his staff might give the overall football team a grade of "incomplete."

Although there were numerous big plays on the offensive side of the ball and on defense, and a few stellar individual efforts as well, inconsistency for both teams and a few more turnovers than the ninth-year Tide coach would like to see probably tempered his overall pleasure with the effort from the respective teams.
Still the scrimmage, as always, allowed Saban to get a look at various players in a game-type simulation and both teams were able to get through the contest relatively healthy, a fact that Saban no doubt is grateful about considering that several players missed the game due to various injuries.
"The best news about any spring game is you get through the game, a lot of players get the opportunity to play and you don't get anybody injured,"said Saban. "That's the case today. The two guys, (freshman running back) DeSherrius Flowers got a little bit of a shoulder, but it's not a big issue, and (junior offensive lineman) Shank (Alphonse Taylor) has had a sprained knee all spring and sprained it again a little bit, but it's nothing serious and not surgical. He just needs some time to heal up and rest."
Saban said he was pleased with the overall effort in the game, and the things which were accomplished, but said there is obviously still room for improvement, including the area of miscues.
Read more: White squad defeats Crimson 27-14 in A Day game (FREE)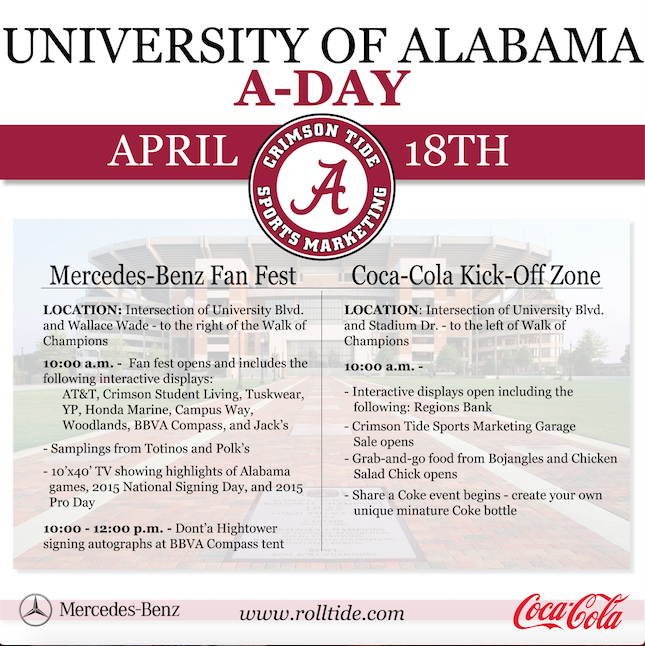 Walk of Champions Ceremony will begin around 12:15pm CST with head coach Nick Saban and 2015 captains Landon Collins, Amari Cooper, Jalston Fowler and Blake Sims addressing the crowd.
The 60 minute countdown clock will begin at 1:00pm CST and the kickoff is scheduled for 2:00pm (Replay on SEC Network at 5pm CST).

A-Day posters will be given to the first 12,500 fans through the gate and a commemorative program will be available for purchase for $5.

Following the game, fans will have field access (time, space and weather permitting).
Other Activities:
Third Annual Beta Psi Phi Charity Classic alumni basketball game, sponsored by Local Legends Charity Events & Learning Minds, will follow the game at 7 p.m. at Central High School in Tuscaloosa. The Tuscaloosa Police Department team will play against former Tiders such as Le'Ron McClain, Rolando McClain and Tyrone Prothro.  **Admission is $5. Doors open at 6 p.m.
By Stan J. Griffin: April 17, 2015
When it became clear that Avery Johnson would be hired as the new University of Alabama head men's basketball coach, one of the prevailing questions from many people concerned his ability to recruit since Johnson has never coached on the college level.
The Tide's new coach took a huge step toward answering many of those questions Friday, as the state's Mr. Basketball, Theodore High School standout guard Dazon Ingram, reaffirmed his commitment to the Crimson Tide, signing a national letter of intent with Johnson's program.

He selected Alabama over John Calipari's Kentucky program.  Ingram also reportedly had received interest from approximately 30 schools in total.
"We are real excited to have Dazon join our Crimson Tide family," Johnson said. "I just want to thank Dazon and his family for having the confidence in me and my staff that he will be in good hands as a student-athlete at The University of Alabama."
Ingram had initially committed to the Alabama, but re-opened his recruitment after the termination of former UA coach Anthony Grant.
Read more: Crimson Tide lands state's Mr. Basketball again (FREE)
By Stan J. Griffin: April 17, 2015
Following Thursday's indoor practice for the University of Alabama football team, the final one for the Crimson Tide for the spring, head coach Nick Saban addressed several topics during his regular press conference, including Saturday's A Day Game (which will be held at 2 p.m. at Bryant-Denny Stadium).
"We're sort of excited for the game on Saturday, and I know the players are excited," Saban said. "Spring practice is a great opportunity for a lot of players to make a significant amount of improvement and we certainly had the opportunity to do that this year. We had quite a few guys that were out for the spring, or got hurt in the spring which created opportunities to give other people a lot of reps. Some of those people will still be out for this game. But I think that this is an opportunity for some guys to g
et out there and play in a game-like situation, which it's our philosophy to try to make this as much of a game-like situation, and we do it a little different than a lot of people in that, the first defense and second offense make up a team, and first offense and second defense make up a team. So the ones play against the ones, and the twos play against the twos for the most part."
He noted the team is a bit thin at some positions heading into what is likely to be yet another well-attended and highly-scrutinized spring game.
"(The absence of injured players) gives everybody an opportunity, and when you split up the squad and have a draft, it's a lot of fun, but sometimes you get some mismatches that are difficult, and make it harder for other players to play well," said Saban. "So, we're kind of going to stick with this format. We've got quite probably more guys out for this game than we've had in the past, which again creates an opportunity for some other players to play. You're always a little thin in the spring without having the entire freshman class with you."
Read more: Saban says Tide will be a bit thin for A Day Game (FREE)
By Stan J. Griffin: April 16, 2015
After having about a week off to rest their bodies and re-focus their collective minds and energies after their recent NCAA regional title, Dana Duckworth's University of Alabama gymnasts are in Fort Worth, Texas, looking to add to the tradition-rich program's collection of national championship trophies.
The Crimson Tide will be seeking the program's seventh national title at the NCAA Championships this weekend and the first for Alabama since 2012. Duckworth will also be looking for her first such trophy as the head gymnastics coach. She is also the only first-year coach to ever lead her team to the main event for college gymnastics.
This will be the Tide's 33rd-consecutive appearance at the NCAA title meet, and the Crimson Tide is one of only six schools to have won an NCAA gymnastics title, joining UCLA, Utah, Georgia, Florida and Oklahoma.

During a media session Tuesday, Duckworth said she feels her squad is certainly ready for what promises to be an eventful trip to the Lone Star State, where three of her gymnasts, Mackenzie Brannan, Nickie Guerrero and Kiana Winston, hail from.
"I think they're feeling confident, and I think that they are mentally and physically ready to go and they believe what we're capable of," she said. "At the end of the day, what I love about this team, and what I love about our coaching staff, and you see the words on the wall (of the team's practice facility), it's all about believing. This team has a great deal of faith, so ultimately they know who's in control. You have to just go and do your job, and have fun and have the spirit that Alabama has had all year that's helped us be successful, which is focusing on one another and not self. If we do all those things, greatness will take care of itself."
She said she believes the time away from competition has been beneficial for her gymnasts.
"Right after regionals we had three our four days of what we called downloading and working on some small things without a ton of numbers and then we built right back up," said Duckworth. "This week is autopilot week, and we believe as a staff that, if we've really done our jobs right, at this point those ladies could go to the national championships by themselves and just compete. That says a lot about the preparation that they have had, and the system and process we've used in preparing them."
In terms of the health of her team, she noted that Aja Sims tweaked her ankle in practice recently, but there were no major issues with that and said senior Kaitlyn Clark has been nursing a sore knee, elbow and ankle. She said she expects everyone to be ready to compete this weekend, however.
Read more: Tide gymnasts focused, excited as they seek program's seventh national title (FREE)